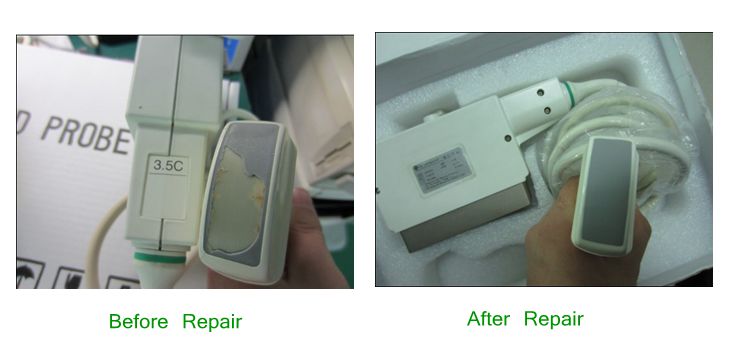 Medi Farcoo Limited, located in Shenzhen China, has contributing lots of efforts to provide the most professional service for repairing the ultrasound transducer probes for at least 5 years.
Ultrasound Probe is one of the most popular diagnosis instruments for hundreds of years, including the Convex(Curved) Array transducers, Linear Array transducers, Phased(Sector) Array transducers, Transvaginal transducers and so on. They can be applied with examinations of Vascular, Breast, Abdominal, Transrectal, Cardiac, Brain, Blood flow, etc.
Ultrasound Probe is composed of Probe Head, Lens, Cable and Probe Connector. Each of the probes could be used at least 2 years if treated well. But during the long period, any part of the probe would be faced with the problems caused by abrasion, which would effect the imaging quality and examination results when working on the ultrasound machine. This would be big case if any results are not totally correct and the patients cannot get the suitable treatment.
Repairing service is a good countermeasures to solve the problems for ultrasound probes,which mainly including connector problem(circuit, less pin), cable(crack, cut, twisted yellow), broken housing crack, lens hole, air bubble, lens aged, strain relief, probe cannot identify ultrasound system, oil leak, 4D function problem and motor broken.
Compared with purchasing a new ultrasound transducer, it is much more cost-efficient to choose a repair service, which would be able to make the transducers look like a new and clean one.
Medi Farcoo Limited owns a professional technical staffs, which have been in the repair field for more than 5 years and always pay the highest attention on each of the repair cases and aim to help the clients re-use the ultrasound transducers in the totally new appearance and good functioning condition. If anybody wants to get the repair service from them, describe the problems with the probes at first; If any pictures could be provided to show the exact problems, that would be much better for the problems evaluation. The technical staff group will begin to repair the probes once receiving from the client. Normally it would only take one week to repair most of the problems.